Master Xu Gong Wei
(1916-2003)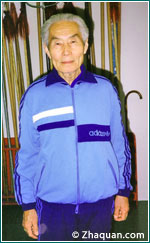 Master Xu Gong Wei was born on june 15, 1916 in Feng Hua District in the province of Zhejiang (south-east coast of China). He moved to Vancouver, Canada in 1988 and came regularly to Montreal to teach Chaquan and Qigong (pronounced Chi Kung) between 1994 and 1999. He passed away on september 3, 2003.

Master Xu was a master of many arts, including Chen, Wu and Yang Tai chi, Xing yi, Bagua, Lo Han quan, Hua quan, Pao quan, Hong quan and of course Chaquan.

He also studied and practiced traditional Chinese medicine. Master Xu was officially designated by the Chinese government as a cultural heritage because of his wealth of knowledge in the martial arts.
Master Xu was a disciple of Yu Zheng Sheng, who, during the 1930's, was a martial arts instructor at the Huang-pu Military College (the top military academy in China after the end of the Qing dynasty).
Yu Zheng Sheng learned from the progenitor of the Yang branch of Chaquan, Yang Hongxiu (1864-1944), who learned from top masters Zhang Jingtan and Ma Laowei.
Lineage of Master Xu Gong Wei:

Zhang Jingtan and Ma Laowei 马老维
Yang Hongxiu 杨鸿修 (1864-1944)
Yu Zheng Sheng 于振声 (1871- 1959)
Xu Gong Wei 徐公伟 (1916-2003)
Julien Valiquette (1965- )
Top of page